Χριστός Ἀνέστη! Christ is Risen!
A MESSAGE FROM FR. GREGORY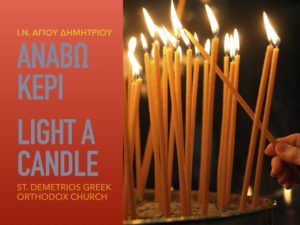 Dear Parishioners & Friends of St. Demetrios, Upper Darby,
I pray that you are doing well in these challenging times. This Lent and Holy Week we have had the difficult task of taking up our Cross and following Christ even as we are unable to gather as His Body, the Church. I pray that the Lord strengthen us all to do what is necessary to protect ourselves and those around us and to glorify Him under unprecedented circumstances.
Know that our parish is still running the good race. Our worship life, though changed, has not stopped. Our services are available to all through Live Streaming. We the clergy continue to pray for all of you and for the life of the whole world. If you want, I will Light a Candle for you and your loved ones. Also, our office is still operating remotely. You can always contact us by telephone or email. In cases of pastoral emergency, you can call me directly.
As circumstances continue to change rapidly, we will keep you informed through this website and posts on our Facebook page. I pray that the Lord give peace in these difficult days and look forward to the day when we can see one another again ἀπό κοντά!
in Christ,
+Fr. Gregory Gilbert
VIDEO

LATEST NEWS

Stay up to date on the the life of the community.
TIME. TALENT. TREASURE.
"If you want to tune in to God so He listens to you when you pray, turn the knob to humility, for on this frequency God always operates, and humbly ask for his mercy." – Saint Paisios
SUBSCRIBE TO OUR MAILING LIST
CONTACT

St Demetrios
229 Powell Lane
Upper Darby, PA 19082
Tel.: 610-352-7212
Fax: 610-352-1467
Fr. Gregory's Cellphone: 240-676-6944 (Pastoral Emergencies Only)
Office Hours: Monday – Friday: 9am to 4pm